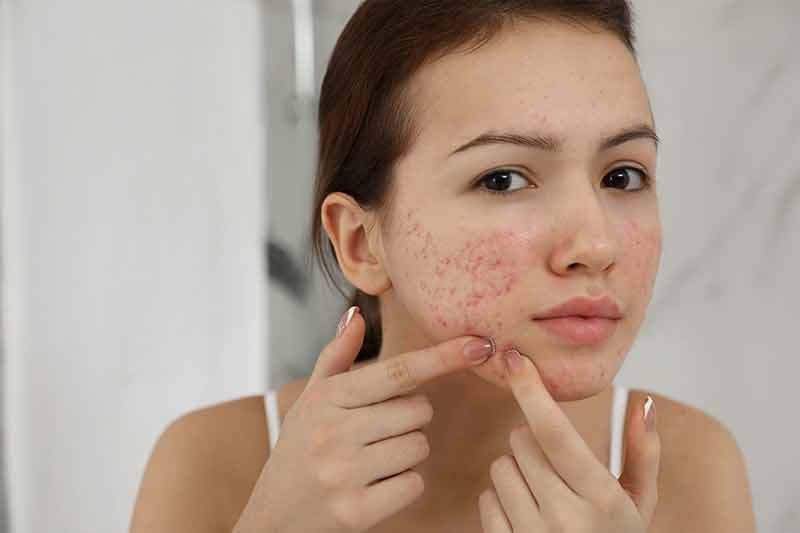 ---
How to Treat and Control
Acne and Blemishes
---
Acne is caused when sebum (oil), bacteria, or dirt clogs hair follicles. Acne can sometimes leave dark spots, pockmarks, or scarring on the skin. These are also types of blemishes.
Follow the following steps to help with acne control and clear blemishes:
---

Dead Sea Nature's Cleanse Foaming Cleanser is formulated to cleanse the skin, remove the accumulating sebum and shrink the pores. Orange Peel specializes in extracting blackheads. Its high content of Citric Acid exfoliates the dead skin and dries out acne. Bergamot is known to have strong anti-inflammatory and anti-infection properties which makes Bergamot an effective spot treatment of acne, blemishes, pigmentations, and acne scars.
---

The Hibiscus Nature's Scrub Facial Scrub specializes in nourishing, tightening, exfoliating and resurfacing the skin. Contains Hibiscus "The Magnificent Botox Plant" that stimulates the skin's Elastin production and elasticity. Also rich with the exfoliating natural alpha-hydroxy-acids (AHAs). Honey/Pollen/Propolis have incredible skin benefits including softening, hydrating, soothing and calming the skin as well as providing the skin with lots of nutrition and vitamins. Coffee Arabica tightens the skin, reduces puffiness and treats cellulite. Apple Plant Stem Cell extract is rich with growth stimulants, nutrients and anti-oxidants. Walnut Shell powder exfoliates the skin.
---
---

The Fountain of Youth - Skin Resurfacing - Serum is a Retinol alternative serum that provides overall reduction in fine lines, skin damage and pigmentation while stimulating collagen production, without the harsh side effects and drawbacks of Retinol (irritation, redness, scaling). Bakuchiol, unlike Retinol, does not increase the skin's sensitivity to the sun, but actually helps to make the skin less sensitive to the sun's harmful rays.
---

The Ultimate Glow Serumis a clarifying, hydrating and pores minimizing face serum. Gives the skin a glowing and plumping effect as well as a powerful long term brightening and antiaging effect. Contains Phyto-Ceramides which restores the natural skin barier function, Tremella is a powerful skin moisturizer and anti-aging nutrient. Smartweed is rich with anti-aging resveratrol. Organic Kakadu plum is the richest source of Vitamin C in nature. It brightens the skin and fights wrinkles. Willow Bark deeply cleans and minimizes the pores.
---
You can refer to the "How to Apply" page for further application details.
---